2020 Inclusion and Diversity at Pinterest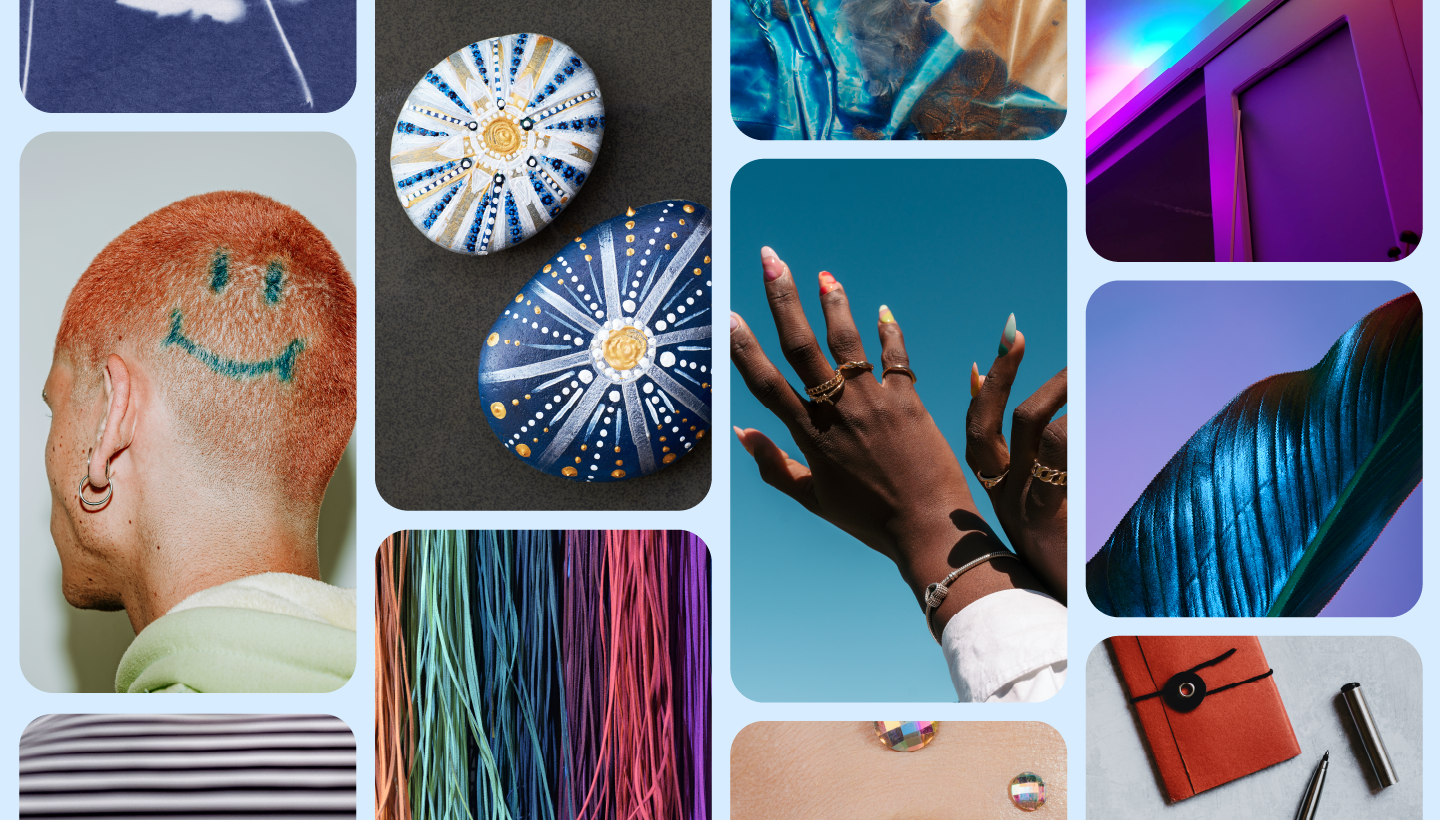 Since Pinterest started, we've aspired to be a place where all people can find inspiration to create a life they love. We know that realizing this mission requires a culture grounded in diversity, equity, and inclusion. 
This year the impact of the global pandemic changed how we live and work, and the resurgence of racial justice movements spanned the globe. These events pushed us to have important conversations and reinforced the need to be deliberate about our own culture. We listened to employees as they shared their experiences and are committed to doing better. More to improve our culture, more to improve our product, and more to bring inspiration to people around the world.
Our efforts to positively shift the experience for our Pinployees include increasing the gender and ethnic diversity of our future workforce while simultaneously working to enhance inclusion for our current workforce. 

This is an ongoing process, but here are some highlights of the progress we've made:
Diverse Workforce
At the end of 2020: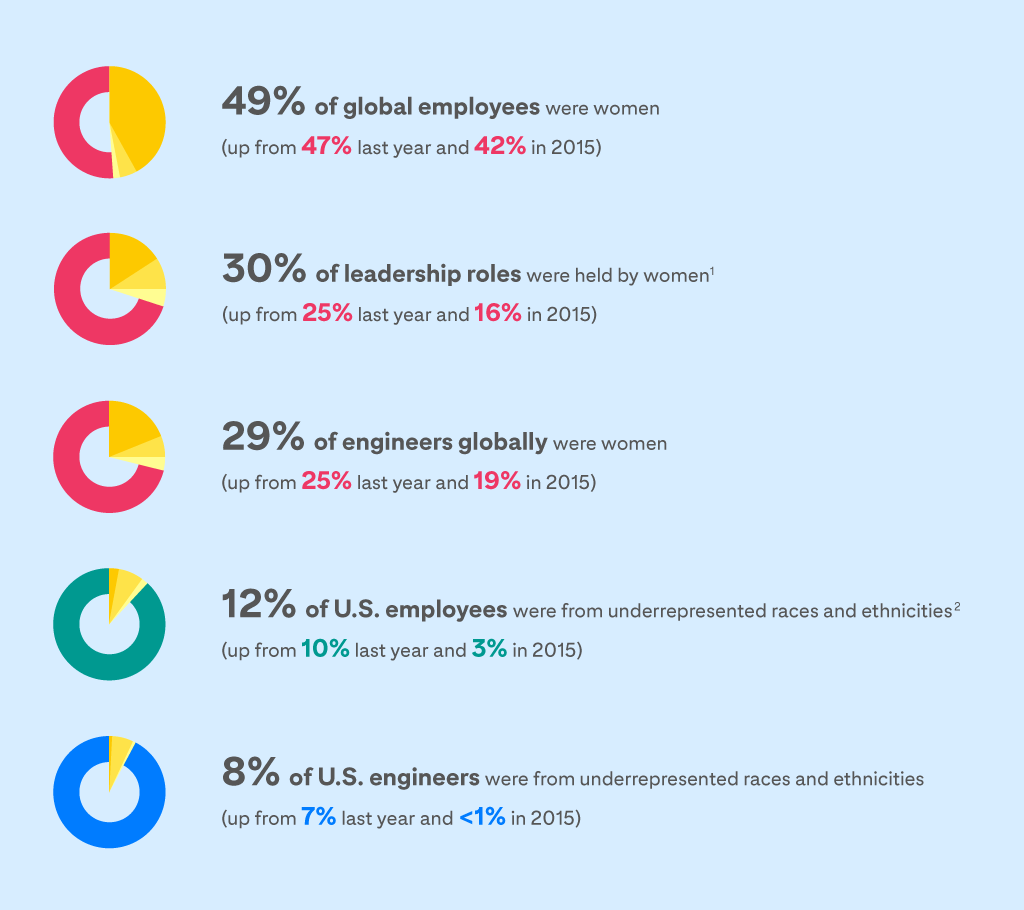 New Hires in 2020: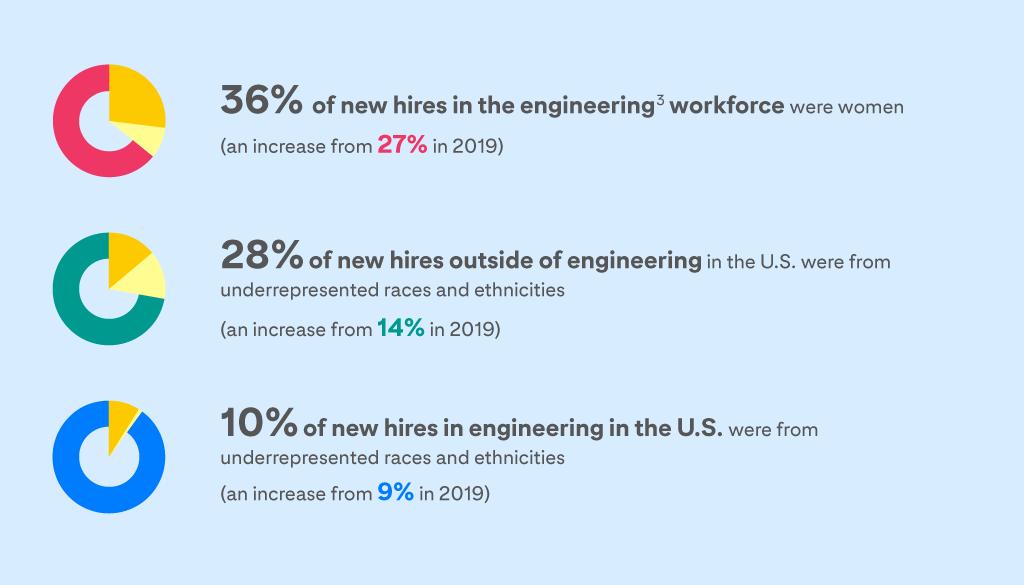 Representation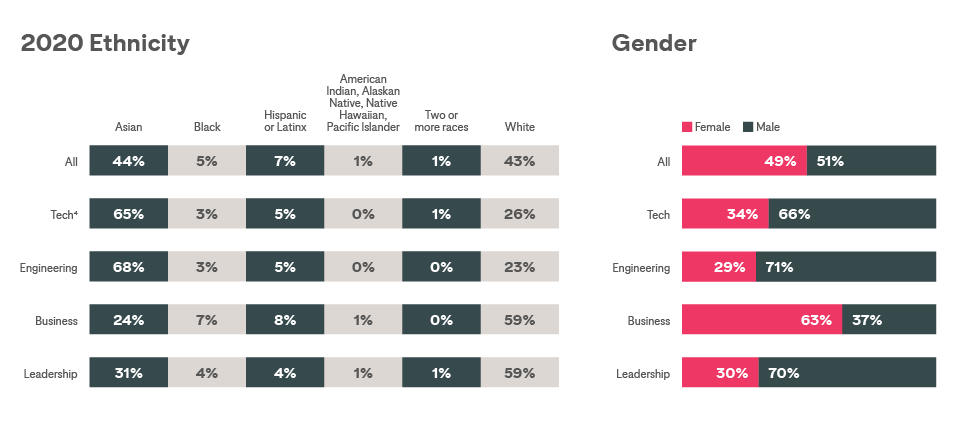 Our commitment to building a more inclusive company continues. In the first quarter of 2021 alone, we're pleased to have reached a milestone: our overall workforce comprised 50% women.
The progress we're making is the result of the following practices:
Ensuring at least 80% of open roles in the U.S. adhere to a diverse slates approach, guaranteeing that women and candidates from underrepresented races and ethnicities are interviewed for open roles.

Expanding our apprenticeship program from Engineering to the Product team. This program increases

opportunities for candidates from underrepresented races and ethnicities to enter the tech industry. 

Focusing on skills and capabilities in our interview process to attract talented candidates from outside of the tech industry.
We've made progress with women in leadership, and are committed to this continued growth. We also have more work to do diversifying our technical functions. Future innovation on our platform comes from the wide range of identities, experiences and perspectives of the Pinployees building our product. This is why we're committed to: 
By 2025, increasing the number of people from underrepresented races and ethnicities to 20%. This work will focus on technical roles and leadership.

By 2025, increasing the number of women in leadership by 20%.
Identities overlap and intersect in complex ways that aren't captured by these limited classifications. With employees in 11 countries globally, we are working to paint a more complete picture of who works at Pinterest to be able to achieve this, we're providing more opportunities for employees to share information about who they are. This includes moving beyond gender binary, disaggregating data to understand the diversity of people of Asian descent, and applying a more global lens to our demographics, where possible.
Inclusive Culture
Hiring a diverse workforce is only one part of the equation. An inclusive work environment ensures that people from all backgrounds have equitable access to opportunities, professional growth and success. In the past year, we've looked at three very important areas to improve: pay equity and transparency, designing processes to effectively address and resolve employee concerns and expanding educational offerings to ensure everyone understands their role in building an inclusive culture.
Pay Equity  
Pinterest has achieved pay equity across gender and race in the U.S. This means equal pay for comparable work. Over the last year we introduced increased compensation range and level transparency and have continued to refine our internal processes. In a dynamic workplace, maintaining pay equity requires vigilance and ongoing monitoring. Twice a year we analyze compensation and make adjustments when necessary to continue to stand by this very important commitment.
Ombuds Program 
We will be launching an ombuds program so every employee has the opportunity to engage confidentially with neutral, trained professionals for independent support resolving conflicts in the workplace. This type of program is not common in the tech industry and ours will be among the first.
Education
Our expanded educational offerings now include important conversations about how people of different identities experience the world and the workplace. We continue to add to these and to incorporate I&D skills and competencies into how we develop managers and leaders. 
Intro to Inclusion:

This workshop discusses how people simultaneously hold privileged and marginalized identities. We discuss policies and practices that may appear neutral, but may perpetuate inequities. To date over 85% of employees globally have completed this course.

Harvard Series:

Five Harvard Business School professors taught a series of eight courses exploring the themes of leadership, inclusion, and psychological safety. Professors included Frances Frei, Tom DeLong, Tsedal Neeley, Amy Edmondson and Francesca Gino. Over 800 employees participated globally.
Board Diversity
In 2020, we added three new members: Gokul Rajaram, Salaam Coleman Smith and Andrea Wishom. These new members bring valuable experience, perspectives and expertise.
Pinterest Change Network
We established the Pinterest Change Network, a competitively selected, globally representative group of Pinployees who partner with leaders across the company to provide input on major initiatives and new company policies. These dedicated and influential employees are role models for change and bring a unique and solutions-oriented perspective to initiatives related to culture, inclusion and diversity at Pinterest.
Employee Resource Groups
Employee resource groups, known internally as Pinterest Communities, are company supported, employee-led groups that play a critical role in driving an inclusive culture and amplifying diverse voices. Pinterest Communities contributed to business initiatives and created spaces for connection and celebration. During this challenging year, we also offered additional support and used a diverse range of credentialed outside experts to provide coaching. The outside experts facilitated dialogues to help build resilience and support the wellbeing and career development of Pinployees.
Pinners can't be inspired if they don't feel represented. This is why we continually add features to diversify content in feeds, recommendations and search results.
Representative Content
We work with retailers and creators from diverse backgrounds to make sure content on Pinterest represents the diversity of our global Pinner base. Last year, we set a goal that at least half of our managed creators come from underrepresented backgrounds. We have met this goal and are amplifying these voices in features like the Today Tab, Shopping Spotlights the Pinterest Shop, and are providing financial support through the Creator Fund. We also use our platform to celebrate important cultural moments, elevate organizations aligned with our values and provide education about social issues including an 8-week editorial series with emotional experts, coined "Friday Feels", which focused on emotional well-being and shared resources on our Today Tab to #StopAsianHate.
Our Policies
We continued our efforts to block hateful terms and misinformation. For example, we've worked to ensure people using our platform find accurate information about the COVID-19 vaccine. Since 2016 we've prohibited advertisements with culturally inappropriate Halloween costumes and last year we updated certain searches —like for "Day of the Dead costumes"— to display a Pin at the top of results with information on how to celebrate thoughtfully and respectfully. In April, we introduced the Creator Code, our content policy to ensure Pinterest stays positive and inspiring.
Algorithms and Skin Tone Ranges
As a recommendation engine, we have a responsibility to diminish bias in the algorithms and systems that drive Pinterest. We do this by applying diverse data in our AR and AI technology. The focus on these issues can be seen in how we've developed features like AR Try on and skin tone ranges that allow Pinners to refine beauty-related searches that reflect who they are. Our dataset has diversified over time to help people customize their searches. And our engineering, Inclusive Product and Inclusion & Diversity teams collaborated to expand the skin tone feature to thirteen additional countries: France, Italy, Spain, Germany, Switzerland, Austria, Netherlands, India, Indonesia, Brazil, Argentina, México, and Colombia. 

Partnerships and External Engagement
It's our mission to inspire everyone to create a life they love -- both on our platform and in the communities where they live. This is why we provide financial support to, and partner with, organizations dedicated to justice, equity and wellness.
The Inclusion Advisory Council
We formed the Inclusion Advisory Council. This independent council will bring influential voices and organizations together to review progress against goals and provide guidance on company initiatives. The Council -- which currently includes the NAACP, former Obama White House Adviser and CEO of Values Partnerships Joshua Dubois, Asian Americans Advancing Justice - AAJC and /dev/color -- will continue to grow with additional organizations. /dev/color is focused on supporting the career development of Black software engineers and will also advise Pinterest in a multi-year strategic partnership.
Community Rebuild Program
In June 2020, recognizing the disparate economic impact of the pandemic, Pinterest employees created the Community Rebuild program focused on Black businesses. The program provides small businesses live training, advertising credits, creative services, and campaign activation assistance to drive revenue and engagement. This program has expanded to support 22 organizations and companies that serve Black, Asian, Latinx and people with disabilities. Our Sales team is now institutionalizing what we've learned to help even more companies better leverage Pinterest. 
"We got to show our business to more eyes. More people are buying from us, and it's been an awesome experience."
Holly Draper, owner of Draped, a clothing business focused on African print garments and accessories.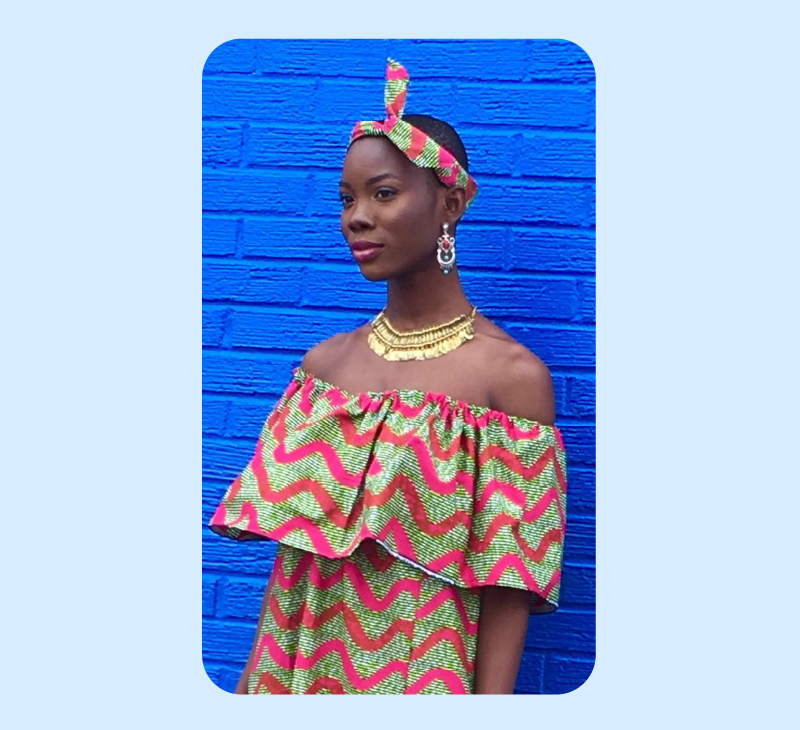 Philanthropy
Last year, we donated $500,000 to leading organizations committed to racial justice and equity such as the Southern Poverty Law Center and the Othering & Belonging Institute. We also allocated a total of $750,000 in paid media to non-profit organizations. Our employee donation matching program resulted in more than $250,000 given to organizations including the NAACP, CARE, the Alliance to End Homelessness, Girls Who Code. More recently, our Board approved a social impact strategy to sustain funding that increases awareness of mental health and well-being challenges and explicitly tackles racial and other disparities in access. 

Methods
¹Leadership includes L7 and above.
2Underrepresented races and ethnicities, often referred to as underrepresented minorities, currently includes Black, Latinx, and Indigenous people. The term Indigenous includes Native Americans, Native Alaskans, and Native Hawaiians, and /Pacific Islanders populations. Race and ethnicity data currently comprises of only our U.S.-based employees.
3Engineering includes full-time employees that report into the engineering organization, excluding executive assistants.
4Tech includes engineering, product design and product management organizations.