Pinterest announces new UK shopping and ad features ahead of festive season
This year, we expect shopping for the festive season to look different, with mobile commerce poised to reach new heights as people find gifts from home. That's why this week, we're rolling out new shopping tools for Pinners and advertisers, bringing us one step closer to our goal of making every Pin shoppable. Today, Pinterest is expanding shopping tools for Pinners in the UK, bringing shopping inspiration to the first international market. In addition, we're launching ads alongside visual search results, as well as more places to shop. 
When browsing the aisles of a favourite store isn't possible, shoppers are increasingly turning to Pinterest for inspiration. The percentage of users who visited places to shop on Pinterest grew more than 50% in the first half of 2020. But we know shopping is more than searching for a singular product—it's about inspiring new ideas. We're focused on making that experience as inspirational as possible, just like flipping through the pages of a favourite catalogue or walking through the aisles of a store that feels handpicked.
Introducing shopping in the UK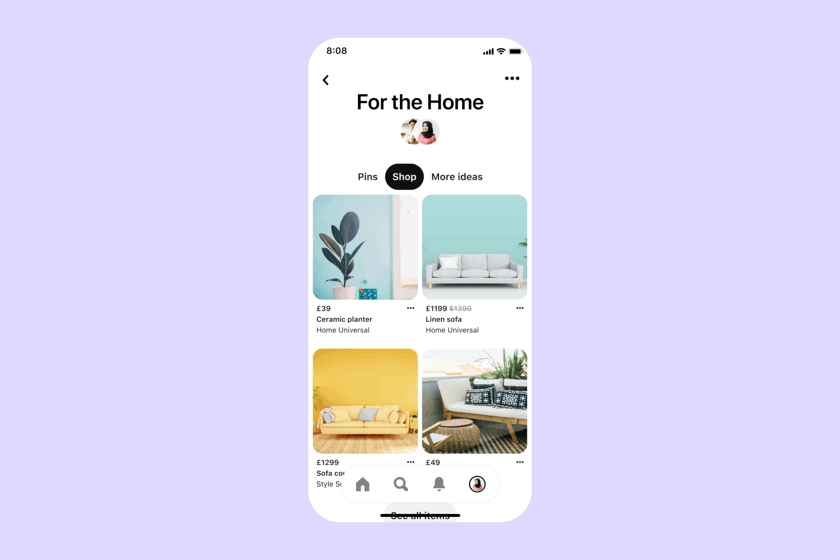 We're also creating more spaces for our global Pinners to shop with our first international expansion of our latest organic shopping products. We're bringing shopping inspiration to the UK, one of our top markets, with features that have been embraced by shoppers in the US.
With the launch of these features, UK Pinners will be able to shop within a home or fashion Pin, shop their search results, shop ideas from their boards and shop the inspiration they see in the real world through Lens camera visual search. They'll also be able to get inspiration from Shopping spotlights, which are expert-selected shoppable content curated with publishers and creators. We're kicking the experience off with publishers like Stylist in the UK, who have curated the best products from UK small businesses as part of the Pinterest x Stylist Shop, as well as creators like The Anna Edit who has curated her dream product wishlist of minimalist interior design must-haves.
Anna Newton, Creator of The Anna Edit
"As people are spending more time indoors, it's important to create a clean space that still feels cosy. On Pinterest, I'm currently saving lots of interior ideas that include light linens, natural wood and rattan fabrics as I shop for products for my new home. My favourite products for a home are the ones that add personality to a space such as large indoor plants and circular mirrors to reflect light."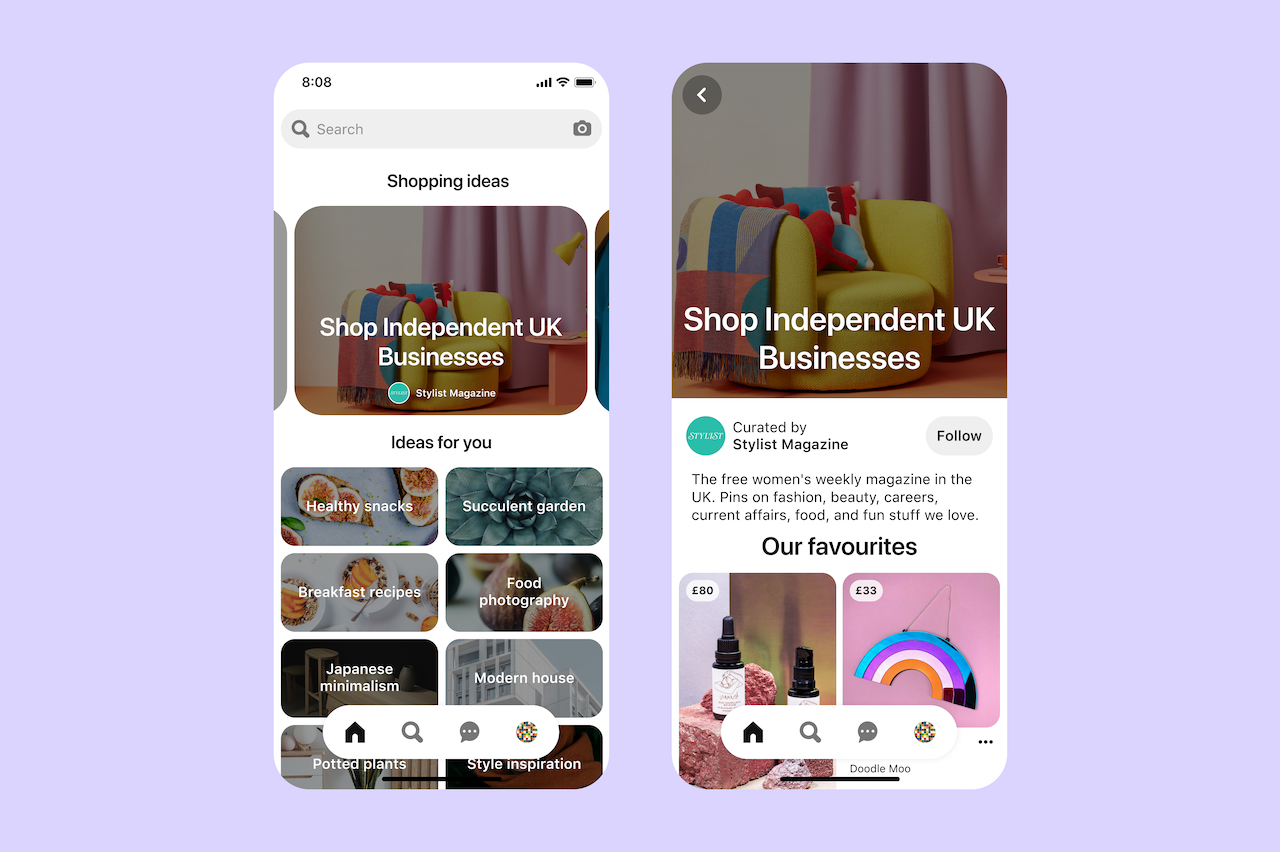 New monetised shopping experiences and conversion insights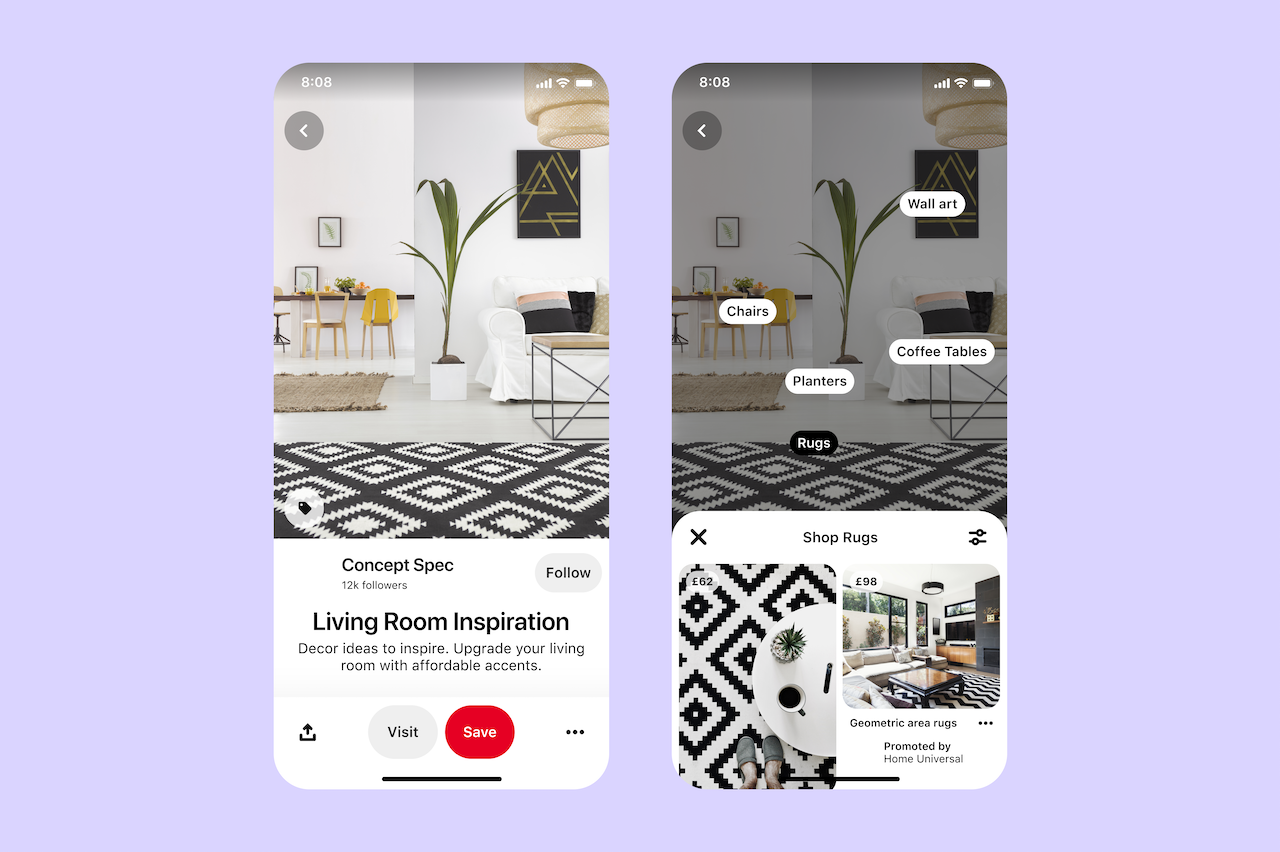 As more people use Pinterest to shop and look for ideas and products from brands and retailers, we're integrating ads into new shopping experiences across Pinterest to deliver relevant content where it's welcomed by shoppers. We're introducing more places to shop for retailers to promote Pins and showcase ads where Pinners love to shop most. This includes Pinterest Lens, which unlocks the power of visual search by allowing people to find similar results to what they capture through the Pinterest camera and in Pins. 
Shopping with Lens connects real-world, offline inspiration to online ideas that are Shoppable on Pinterest, powered by visual search. Pinners can use the Pinterest camera to search their surroundings and find shoppable products as a result.
Retailers have been eager to be able to deliver their catalogue content within these new Pinner experiences. Three of our most highly trafficked and visible places to shop - Lens, the shop tab in search, and shopping on Pins - now can include ads. 
With new conversion insights in the U.S., Pinterest Verified Merchants and Shopify users can easily see the impact of both their paid and organic Pinterest content on their site visits and checkouts, making their shopping efforts not just impactful, but also measurable. They'll be able to analyse performance, view top converting Pins and turn their best performing organic Pins into ads. In addition, they will be able to track their activity funnel and see how Pinterest audiences converted on the path to purchase— from page visitors, to users who added to cart, to purchasers.
A place to shop online, not just a place to buy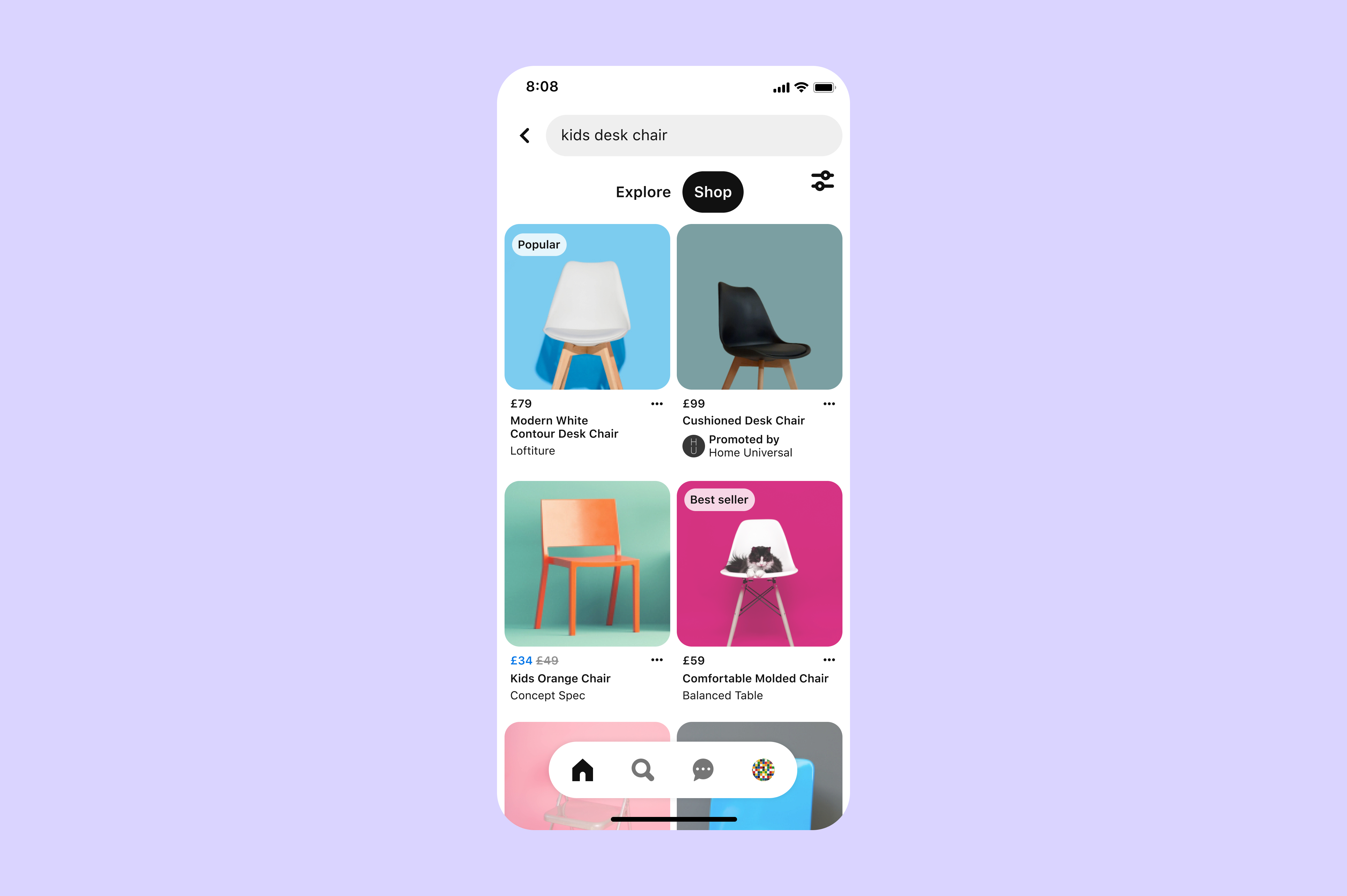 Instead of walking down London's Oxford Street to see the windows ahead of the festive season, inspiration will likely be from the comfort of our own phones.  In a year when more people than ever will be shopping online for the festive season, Pinterest can replicate that experience for consumers and retailers through curated collections and visual discovery. We're building a place to shop online—not just a place to buy.  
Visit our holiday hub for fresh insights, best practices and creative thought-starters.