The Future of Beauty: Pinterest announces inclusive product updates as searches rise
Millions of people around the world use Pinterest for beauty inspiration each month, making the beauty category one of the largest on the platform. As Pinterest becomes more shoppable with a growing set of diverse content, today we're announcing updates to skin tone ranges and the addition of new brands to virtually shop and try on lipsticks. These updates increase the discoverability of beauty products and tutorials personalised to individual skin tone, style, and preference. 
Skin tone ranges (our inclusive beauty results search feature) is now available in additional countries beyond the U.S.— including the UK, Canada, Ireland, Australia, and New Zealand — and the design has been refreshed to surface options right from search results. The quality of the technology has also improved, and the number of beauty and fashion Pins where a skin tone can be identified has quadrupled.¹ Our skin tone signal is now 3x2 as likely to detect multiple skin tone ranges in top search results.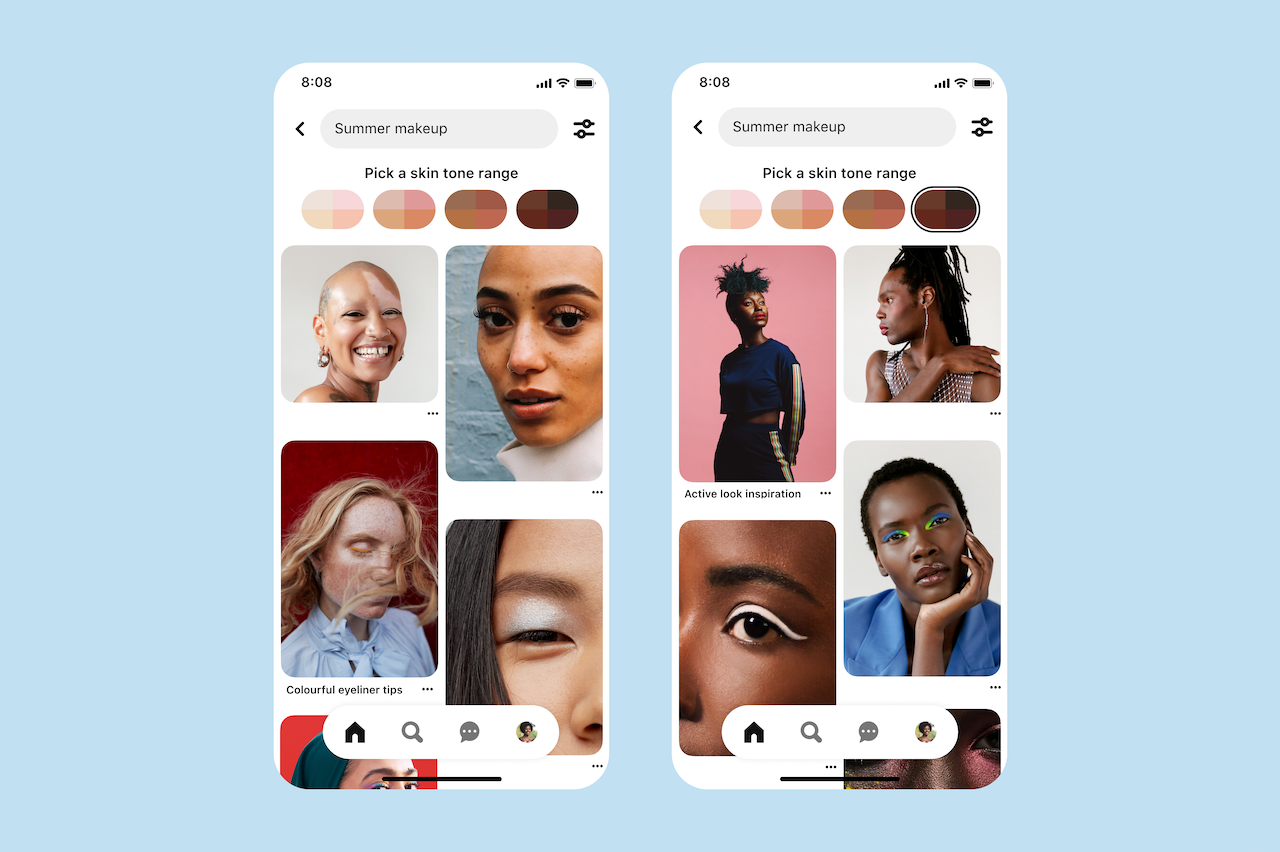 Unique to Pinterest, our augmented reality technology allows for customisation through skin tone ranges. As of today, the virtual lipstick Try On experience is live with more than 10,000 shoppable, in-stock shades discoverable across 48 million beauty Pins, with products from brands including newly added NARS, Cle de Peau, and Thrive Causemetics. The easier it is to try on, the more people are likely to buy, as Pinners come to Pinterest early in their shopping journey. Since augmented reality technology launched in January, Pinners try on an average of six lipstick shades3 and are 5x4 more likely to show purchase intent on Try On-enabled Pins than standard Pins. Try On is currently available in the U.S., and will be launching in the UK in the coming months.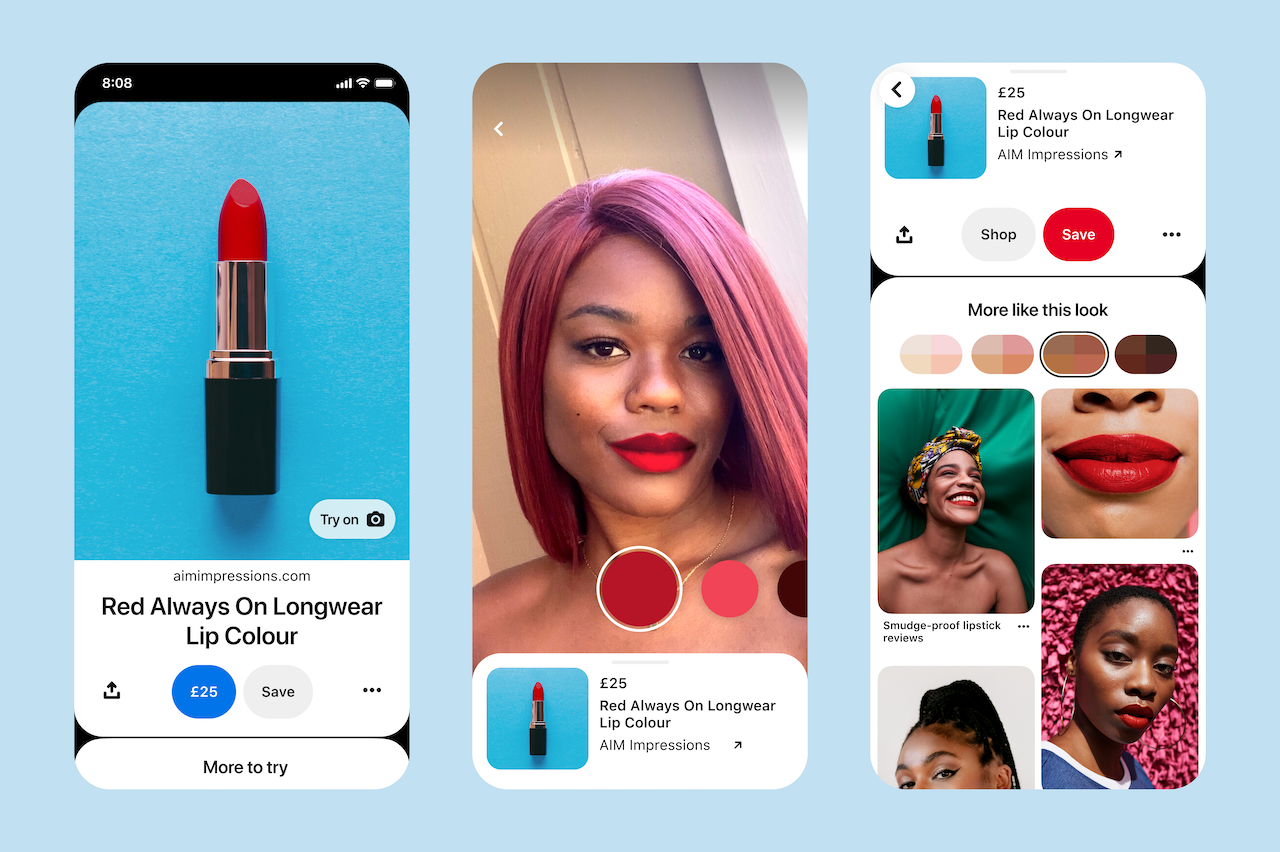 "Pinterest is the home of inspiration, but it's hard to be inspired if you don't feel represented. We're making each person's Pinterest experience more relevant to them through new technology and ways to control the beauty results they see. With these updates, Pinterest is becoming a more inclusive place to discover and shop for beauty ideas. No one should have to work extra hard to uncover personalised ideas, and all should feel welcome. A more diverse Pinterest is a more useful, positive and powerful one." — Annie Ta, Product Manager
We're committed to diversifying the content on Pinterest and these newest technology improvements will help create better signals for more inclusive algorithmic recommendations in the future.
You can find high resolution images here. 
Emerging beauty trends
"The importance of diversity in beauty is simple, we need coverage and we need representation. It's amazing that Pinterest is now going to have skin tone ranges in the UK as a feature to find inclusive products and inspiration based on your skin tone. Everyone wants to feel seen and it's about time for all brands to get on board. This is a great tool to make people feel seen, heard and it benefits everyone. It's great to know Pinterest will have a plethora of diverse beauty examples and inspiration to help grow the industry and that's what inclusivity is. Features like this will help drive cultural change and make people feel good about themselves." - Chloe Pierre, Founder, thy.self
On Pinterest, the desire for personalised skin and hair care only continues to grow. In June, global searches for beauty results based on skin tone including 'grey hair on dark skin women', 'blonde hair colour ideas for fair skin blue eyes', 'soft natural makeup for Black women', 'brown hair colours for fair skin' and 'nude lipstick for dark skin' were among some of the top trending beauty searches.5
In 2020, it's all about au naturale as Pinners are taking a 'less is more' approach and letting their unique features shine. Natural hairstyles are rising with 'natural hairstyles' (2.5x) and 'natural curly hair cuts' (up 6x) seeing significant increases.
And, freckled Pinners are looking for ways to emphasise their natural features with searches like 'Black girls with freckles' (up 2x), 'red hair freckles' (up 5.4x), and 'Asian freckles' (+59%) increasing.
With videos on the rise on Pinterest (daily video views grew 150%+ year over year), searches for 'natural makeup videos' (+62%) and 'natural beauty aesthetic' (up 9x) are popular as Pinners look for ways to execute a 'soft glam aesthetic' (5x) with 'coloured eyeliner looks' (3.5x), 'peach lip gloss' (+42%) and bold yet classic 'red lipstick looks' (2x).
Men are also exploring new beauty routines as they look to enhance their grooming and skincare regimens. Hair searches including 'Black men beard styles' (up 3.9x), 'grey beards' (up 3x), 'long hairstyles for men' (up 25x), 'afro hairstyles men' (up 7.7x) and 'curly hairstyles' (up 19x) are on the rise while skin and beauty searches including 'creative makeup looks' (up 7x) and 'healthy skin care' (up 9x) are in the lead.
Methodology
1, 2, 3, 4 Pinterest internal data, July 2020
5Unless otherwise denoted, all trends are calculated by comparing global normalized searches in June 2019 to June 2020